>
Worth A Ticket: Grade It On A Curve
In 1999, Jake Kasdan directed a project set in high school that starred Jason Segel and featured Dave (Gruber) Allen in its ensemble; it was called Freaks and Geeks, and it has its own special place in pop culture history. His new BAD TEACHER… not so much. But not everything has to be a classic, and Bad Teacher, despite its shortcomings, isn't a bad way to spend 90 minutes in the summertime.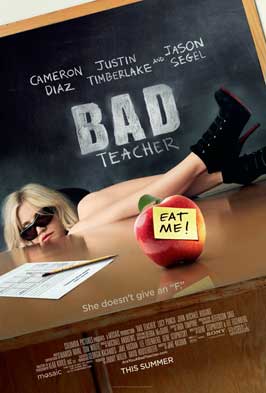 Cameron Diaz has been in so many terrible movies (do you even remember her in Green Hornet? OK, fine–do you even remember Green Hornet?) that she seems delighted to have a role she can chomp down on, and her pleasure is infectious. She plays Elizabeth Halsey, who when we meet her seems to have accomplished her life plan: cutting short her desultory high school teaching career by marrying rich. But in short order, she finds herself dumped (coincidentally, Kasdan's pilot for the fall sitcom New Girl also begins with the sudden end of a seemingly perfect relationship), and forced to go back to teaching. Depressed and bitter, she mistreats her class with a vengeance, alternating between sneaking swigs from a bottle in her desk drawer and sniping at any students who dare to speak. Her colleagues, who include Lucy Punch, Segel and Phyllis Smith, are also targets of her sarcastic wrath. But when a wealthy, idealistic new teacher (Justin Timberlake) arrives, she has a new goal: steal, embezzle and otherwise cheat her way to the money that will pay for the boob job she's convinced will attract him.
Bad Teacher is neither as funny nor as daring as its red-band trailer suggested–Elizabeth crosses lines, but she doesn't do anything truly awful (she's a kitten compared to Billy Bob Thornton in Bad Santa), and she predictably becomes A Better Human Being before the movie is over. The movie's got charm, though. The script by Gene Stupnitsky and Lee Eisenberg (producer/writers on The Office) may lurch between silly plot points, but it's got plenty of tasty dialogue, and Diaz seems to relish every line. She's an actress who can lift herself up to the level of her material (she was excellent in the terribly underrated In Her Shoes), and she throws herself wholeheartedly into this part.
Even better, the picture has been written and cast in depth. Lucy Punch all but steals the movie as Elizabeth's nemesis, a goody-goody teacher who's like the grown-up version of Reese Witherspoon in
Election
; the obvious move would have been to play the character very big, but Punch smartly keeps her under control, steely and increasingly desperate in her contempt for Diaz. Phyllis Smith does exactly what she does every week on
The Office
, and it continues to be very funny. Segel's ultimate place in the storyline isn't hard to figure out, and his easygoing on-screen rapport with Diaz makes it work. Timberlake, as usual, is happy to go for it in a comic role, but his character is the sketchiest (I kept expecting some kind of twist)–he'll be seen to far better advantage in
Friends With Benefits
a few weeks from now. Even in small roles, people like John Michael Higgins, Molly Shannon, Eric Stonestreet and Thomas Lennon show up to elevate them. Kasdan gets credit for a lot of this, even if the picture looks like a single-camera sitcom (visually, it's somewhere between the stick-a-camera-in-front-of-people style of
Bridesmaids
and the genuine stylishness of
The Hangover Part II
); there's someone interesting to watch in every scene, and the picture has flow and energy.
Bad Teacher is no masterpiece, and it doesn't have to be. It's got a strong, charismatic lead, a terrific supporting cast and a few laughs, and that'll do. In a summer where, so far, the big action tentpoles have underperformed and the comedies (Bridesmaids, Hangover 2, Midnight in Paris) have been on the surest road to profit, it earns its place in the graduating class.
(BAD TEACHER – Columbia – R – 92 minutes – Director: Jake Kasdan – Script: Gene Stupnitsky, Lee Eisenberg – Cast: Cameron Diaz, Jason Segel, Lucy Punch, Justin Timberlake – Wide Release)