>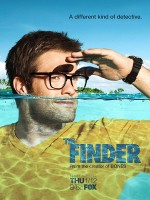 THE FINDER – Thursdays 9PM on FOX – If Nothing Else Is On…
THE FINDER has already had a pilot of sorts, which aired last season as an episode of BONES. While the series is based on the character Walter Sherman from the "Locator" novels by Richard Greener, technically it's presented as a jerry-rigged spin-off of Bones, with Walter supposedly being an old Army friend of the Seeley Booth (David Boreanaz) character. (Both The Finder and Bones are "created" for TV purposes by Hart Hanson.) That Bones episode had a somewhat different supporting cast and also featured Bones cast members, so we'll consider tonight's episode the "real" pilot.
Walter Sherman (Geoff Stults), in all incarnations of the character, is a former soldier who now runs a tropical bar (in Florida for the TV series). He suffered a brain injury that has wired his mind in such a way that he can make connections between seemingly random pieces of information and use them to track down any person or object that's been lost. He also has a deep-rooted psychological need to locate such people and things. Hence, he's "The Finder." His right-hand man, lawyer and muscle is Leo (Michael Clarke Duncan). Since the original TV episode, he's lost the tough bartender played by Saffron Burrows, and instead liaises with a tough, self-described "smoking hot" cop named Isabel Zambada (Mercedes Masohn), with whom he has the obvious mix of irritated professional respect and sexual tension. He and Leo, for reasons that aren't yet entirely clear, also have the care of teen gypsy Willa (Maddie Hasson), who's on probation from juvie living in a trailer on their land; Walter and Willa mutually pretend not to care about one another.
As in Bones, the particular mystery of the week is less critical than the banter and relationship between the characters. In the premiere episode, Walter was hired by the military-school student son of a pilot whose life Walter had saved in Kosovo, and ultimately he proved that the father, while sadly deceased, had been a hero and a caring dad.
The Finder hasn't quite discovered its voice yet, but then Bones took most of its first season before it hit its stride. Right now the show feels underpopulated, compared to the ensemble rom-com that Bones turned out to be; with only 4 leads, they're all being asked to do too much. Also, Walter is an emotionally stunted character in the mode of Brennan on Bones, but his foils aren't yet being given the material to carry his emotions for him, the way the other characters do on that show.
That being said, The Finder is a perfectly pleasant hour of television for now. Stults, Clarke and the women are personable and seem like a good fit, and Hanson provides the tone of wry mystery that's worked for him on Bones. The show will have a limited number of episodes this year, as it plugs the gap in Bones episodes caused by Emily Deschanel's pregnancy, and if it doesn't lose too great a portion of Bones' rating (it will doubtless be helped by having American Idol as a lead-in starting next week, and next week also brings a visit from Bones' John Francis Daley playing his character Sweets), it should have sufficient time to develop its potential and prove whether FOX has found a companion piece for its long-running procedural hit.