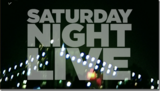 Tonight's SATURDAY NIGHT LIVE marked the return of movie-star alumnus Will Ferrell as host, but he had a minimal amount to do with the clear highlight of the night.  That would be the show's 100th Digital Short, a genuine extravaganza (if this was the reason there was no Digital Short last week, the effort was well worth it) that celebrated all the 99 shorts that had come before with spectacular production values, a co-starring role for a (deliberately) somewhat puzzled Justin Bieber, and the return of many stars of Digital Shorts past, including Natalie Portman with her hysterically profane rap and–of course!–the Fifth Beatle of SNL, Justin Timberlake, who this time joined in commemorating the occasion by singing a salute to a particularly athletic form of male self-gratification.  Ferrell took part too (as did musical guest Usher), but in a relatively minor role.
---
Ferrell was subsidiary in the night's other highlight, too.  Hosting by a former cast member is often a cue to bring back other vets, and this week Will Forte returned to reprise his utterly clueless sportscaster bit with Jason Sudeikis, co-hosting ESPN Classic telecasts of women's sports events from the 1980s and 90s.  Even though these sketches never varied much, we hadn't seen one in long enough that it was hilarious all over again, particularly the Stay Free Maxi Pads taglines (the best:  "When your uterine lining looks like the elevator in The Shining").  Since the sketch was taking place in 1994 (Sudeikis had to continually remind viewers of this), it cut periodically to Ferrell as a Ron Burgundyish reporter saying inappropriate things while stationed outside OJ Simpson's house, but these were throwaway bits.
Ana Gasteyer was the other returnee, back to do her Singing Kulps bit with Ferrell, this one set at a LGBT high school prom.  It was fine, although a reminder that this sketch had more often been mildly funny than laugh-out-loud.
Ferrell, looking oddly weathered, had his best piece at the very start, a cold open that featured Ferrell's George W Bush as Joe Biden's (Sudeikis) "imaginary friend."  There were some good lines (Bush on "Mission Accomplished"–"It's just something I like to say when a problem isn't solved, but I don't want to talk about it anymore"), and Sudeikis and Ferrell had a good rapport.
The rest was less impressive.  Ferrell's monologue was a one-joke Mother's Day bit that played at the idea that without gag-writers, he was basically an inarticulate idiot, proven as he wished "unscripted" holiday greetings to his real-life mom.  Later in the show, he took part in a Mayoral "Funkytown Debate" with Kenan Thompson that went on too long, and played a small part in this week's "not the 12:55 piece, but it feels like it," a public-access Broadway show-tune parody that lacked focus because both the songs being sung and the singers were bad.  (And if they wanted to do a Broadway musical parody, um, why not go after Smash?)  The actual 12:55 piece was another try at the sketch where distant relatives keep grabbing the mike to give crazy toasts at a family event, which wasn't particularly funny the first time, either.
In the show's other regular departments, Update's only desk piece was an Andy Samberg as Nicolas Cage sketch, this time with Liam Neeson the guest celebrity (plugging Battleship, which happens to be produced by Universal, which happens to own NBC) that worked because of Samberg's great Cage.  The parody commercial wasn't really a parody of any commercial, just a bit about Ferrell's annoying sneeze noises, but late in the show, which was apparently running a little short, there was a repeat of the inspired Almost Pizza commercial from earlier in the season.
Next week:  the season finale, with host and musical guest Mick Jagger, and just in case that's not enough music royalty, appearances as well by Arcade Fire, Foo Fighters and Jeff Beck.