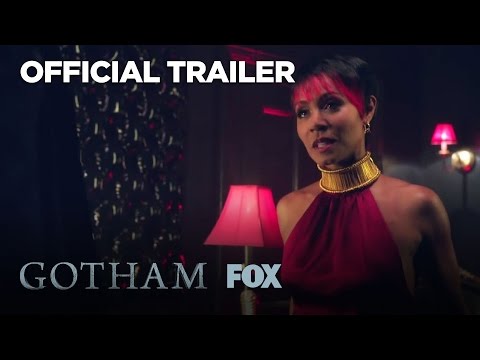 GOTHAM:  Monday 8PM on FOX
THE FACTS:  The hero of this Batman prequel is the pre-Commissioner Detective Jim Gordon (Ben McKenzie), who with his partner (Donal Logue) will attempt to clean Gotham City of a mob boss (Jada Pinkett Smith) and other villains.  Along the way, he'll interact with the young versions of not just the Dark Knight, but the Penguin, the Riddler, Catwoman and Poison Ivy (and the Joker, too, although he's not in the pilot).  Bruno Heller of The Mentalist created the show, but since The Mentalist was picked up at CBS, he may not be doing the showrunning.  It has an extended 16-episode order from FOX.
WHAT IT'S SAYING:  The Dark Knight meets Muppet Babies.  It's a gritty cop show, but also an orgy of origins stories for all of Gotham City's celebrated heroes and denizens.
WHAT IT'S REALLY SAYING:  The idea of doing a show that exists between the cracks of superhero spectacle movies has proven very tricky for Agents of SHIELD, which has only recently figured out how to pull it off, and Gotham may have a similar learning curve.  The big question that the trailer doesn't answer (but the full pilot may) is just what all these young Batman characters are doing in this era of Gotham City.  We see Bruce Wayne's parents murdered, but it's not clear whether Bruce will be donning a cape anytime soon.  Some of the villains appear to be older, so presumably they're already doing bad things–still, they have to be around for Batman to pursue 20 years later, so only so much can happen to them.  All that being said, the production values here (which may not be present in the series) are outstanding, and the show looks highly watchable.
THE OUTLOOK:   If Gotham falters, it won't be able to blame its scheduling.  Gotham, and FOX, couldn't ask for a better pairing than with the fantasy hit Sleepy Hollow, and although The Voice may continue to dominate Mondays for now, Dancing With the Stars and the CBS sitcoms are all within reach, while CW (which will compete for the same eyeballs as Gotham) has to introduce something new to replace Star-Crossed.  Too soon to schedule a guest appearance by Ben Affleck as future Batman?