CONTRABAND:  Worth A Ticket – Working-Class Thriller
CONTRABAND is a B movie, but oddly enough, that's one thing in short supply these days.  Action movies in modern Hollywood usually come with giant CG-laden budgets, or with a Drive-like overweening sense of self-importance.  A modest picture that simply wants to entertain for a couple of hours, and does, increasingly feels like a rare treat.
Eventually Contraband falls victim to the need to be bigger than it needed, but its first half is great fun.  Skillfully,  the picture takes us into the world of smuggling as it's practiced on a day-to-day basis in the port of New Orleans, and on a run between that city and Panama.  Our surrogate for these lessons is the ultimate in working-class millionaire movie stars, Mark Wahlberg.
---
Wahlberg plays Chris Farraday, who was once the best smuggler around; the most gifted member of a family in the business, he was the one who didn't get caught.  When we meet him, he's gone straight, with his own home security firm, a lovely wife (Kate Beckinsale) and 2 kids.  Of course, this being a movie, he's pulled back in for One Last Job, when his brother-in-law Andy (Caleb Landry Jones) has to dump the cocaine he's been smuggling for the evil Briggs (Giovanni Ribisi) after the Coast Guard raids the boat.  Andy will be killed unless he repays Briggs for the dope, and as an honorable man and the only person capable of handling the operation, Chris takes over.  Even when stepping away from the straight-and-narrow, Chris won't smuggle drugs.  Giant racks of counterfeit currency, however–that's a different story.  So Chris leaves Kate and the kids in the care of his best friend and former partner, recovering alcoholic Sebastian (Ben Foster), and heads to Panama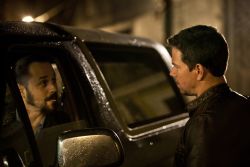 All of this is a higher-pitched version of the 2008 Icelandic film Reykjavik-Rottterdam.  That picture was directed by Oskar Jonasson and written by Jonasson and Arnaldur Indrioason, and starred Baltasar Kormakur, also one of the producers, in the Chris role.  Here's where it gets a bit odd:  Kormakur, although not the director of Reykjavik-Rotterdam, is himself an Icelandic director of note, and he makes his US filmmaking debut as director of Contraband (script by Aaron Guzikowski).  Kormakur does a very capable job setting out the millieu of the docks without overdoing the New Orleans atmosphere, and he handles the plot set-up in a convincing, workmanlike fashion.
Once the movie gets to Panama, it becomes more of a big Hollywood production, first with a large-scale action sequence that's fun to watch but out of keeping with the movie's tone (and which doesn't justify the Wahlberg character's presence in the sequence particularly well).  Then the melodrama starts ramping up, in ways that are alternately predictable and implausible–the latter especially at the end, with a twist that feels like it was added after test screenings.  All of this may boost the movie's boxoffice, but makes it less satisfying as a narrative.
The picture is still much more worthwhile than an empty action buffet like the Sherlock Holmes sequel.  Wahlberg, as much as any current star, casts himself (except in his occasional forays into comedy) with an old-Hollywood sense of exactly how his persona works, and while no one could say the role of Chris stretches him as an actor, he's thoroughly comfortable in the part.  Kate Beckinsale streaks her hair and has a tattoo on her wrist, but if the idea was to toughen her up in the way Amy Adams did so astonishingly in The Fighter, lightning didn't strike twice.  Ribisi turns on his Mickey Rourke as the hissable villain, and Foster's casting is probably too on the button (his very presence in the part says too much).  There are also some very fine character actors in smaller roles, like J. K. Simmons, Diego Luna and Lukas Haas.
Contraband is well put together, with fine photography by Barry Aykroyd and slick editing by Elisabet Ronaldsdottir (who had edited the original Reykjavik-Rotterdam).  In his Hollywood debut, Kormakur handles crashing trucks and shoot-outs well enough to be considered for any mediocre franchise–but it would nice to think he might resist the call to become just another big-budget hack, and stick with the unpretentious craftsmanship he shows here.  Hollywood, and audiences, could use more of that.