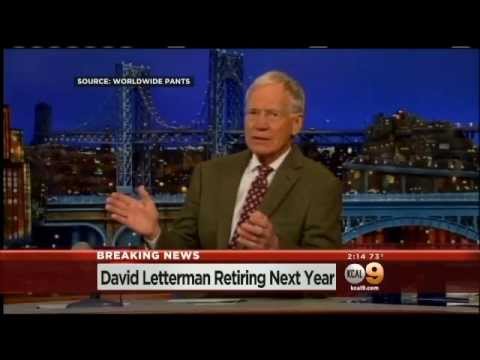 In about a year, the reboot of the network late-night talk shows will be complete, now that David Letterman, cranky genius of the format, has announced that sometime in 2015 he'll be retiring.  With Jimmy Kimmel's move to 11:35PM and the recent ascensions of Jimmy Fallon and Seth Meyers, it will be the first time in decades that there's no veteran programming airing after the late local news.  Letterman will have achieved two of what were presumably his goals:  matching and than surpassing Johnny Carson's 30 years as a late-night host, and outlasting his nemesis Jay Leno.  (Although don't put it past Leno to have the last laugh by having his own new show to host by the time Dave departs.)
The stories about Letterman's upcoming exit are already reading like obituaries, and there'll be plenty of time to assess his mammoth place in the history of not just TV talk shows, but the pop culture zeitgeist in general.  The guessing game as to who will replace Letterman, of course, has already started, and it's a particularly fun one because CBS, unlike NBC, doesn't have anyone obviously in waiting for the position, and no Saturday Night Live-like incubator of new comic talent.  (Craig Ferguson, while a critical favorite whose show is produced by Letterman, and possibly with some kind of contractual right of first position–its specifics are unclear–is likely to be considered a bit old-skewing and niche for the slot.)
Last night's ratings showed NBC in the late-night lead, with both Fallon and Meyers ahead in their hours.  In 18-49s, Fallon was at 1.1, Jimmy Kimmel at 0.8 and Letterman at 0.5.  The older-skewing total viewers race was closer:  Fallon at 3.0, Letterman at 2.5, and Kimmel at 2.4.  At 12:35 on Tuesday (Craig Ferguson was a rerun last night), Seth Meyers topped Ferguson 0.6 to 0.4 in 18-49s.  Again, total viewers were closer, 1.4 to 1.2.  (Nightline, which only airs for half an hour, was at 0.3 in 18-49s and 1.2 in total viewers.)  Also relevant:  The Daily Show, airing at 11PM, was at 0.7 in 18-49s, The Colbert Report at 11:30PM was at 0.6, and Chris Hardwick's self-explanatory At Midnight was at 0.5.  Conan O'Brien, airing at 11PM on TBS, was at 0.4.  Chelsea Handler's E! show was at 0.2.
All of those names will be heard as The Hunt For the New Dave begins (OK, maybe not Chris Hardwick), but all have one knock or another against them.  Stewart might be able to get out of his Comedy Central deal, since both networks are under the Viacom unbrella, but he's insisted for years that he has absolutely no interest in the job, which would almost certainly force him to tone down his on-air politics; Colbert has never hosted other than in his very specific gag persona; Conan's numbers since leaving NBC have been unimpressive; Handler is even more of a niche player, and although she's actively looking to leave E!, she doesn't seem to fit the CBS profile.  (John Oliver might have been another possibility, but he's now berthed at HBO.)  It's almost impossible to imagine the depth of Letterman's wrath if Les Moonves decided to replace him with Jay Leno.
CBS will probably have to look outside for its new host, which could be exciting–although a former CBS sitcom star might be an interesting possibility.  Ray Romano?  Kevin James?  Going in a completely different direction, Amy Schumer, also a Comedy Central luminary, isn't a mainstream star yet, has a notably foul-mouthed persona and may want to be in movies (her first opens next year), but she's been a surprisingly charming interviewer on the weekly "talk show" segments of her series.  It's also possible that CBS could decide to jettison the entire talk-show format and try to create something more like Comedy Central's Tosh.0 or E!'s Talk Soup, a low-budget clip show with some edge.
One thing is clear:  despite eroding ratings over the past years, there's still enormous money to be made in late-night, especially for a show that's produced on a budget–and any post-Letterman host will absolutely make millions less than Dave does.  Decisions made in that part of the network ecosystem can reverberate for years, so CBS will want to be decisive but careful.  Let the games begin–or more accurately, resume.
About the Author
Mitch Salem
MITCH SALEM has worked on the business side of the entertainment industry for 20 years, as a senior business affairs executive and attorney for such companies as NBC, ABC, USA, Syfy, Bravo, and BermanBraun Productions, and before that, at the NY law firm of Weil, Gotshal & Manges. During all that, he has more or less constantly been going to the movies and watching TV, and writing about both since the 1980s. His film reviews also currently appear on screened.com and the-burg.com. In addition, he is co-writer of an episode of the television series "Felicity."