>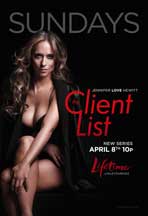 A lot can happen between the creation of a TV pilot in the spring and the production of episodes for the regular season: a writing/producing team is hired, audience focus groups weigh in, networks and studios (which may have had their own turnover) give plenty of notes, helpful and otherwise, and critics begin to rear their ugly heads. The results can include changes to tone, pace, casting, and even story. Here at THE SKED, we're going to look past the pilots and present reviews of the first regular season episodes as well.
Previously… on THE CLIENT LIST: Riley Parks (Jennifer Love Hewitt), Texas housewife and mother of 2, is deserted by her husband and needs to pay the mortgage. She's a trained massage therapist… but straightforward massage doesn't quite make ends meet. So she goes to work at a local spa run by Georgia (Loretta Devine), where she and most of the staff provide "extras" to the special clientele, resulting in much bigger tips. Meanwhile, Riley copes with her extravagant mother Lynette (Cybil Shepherd), tries to discover where her husband has gone, and nurtures a quiet mutual crush on and from brother-in-law Evan (Colin Egglesfield).
Episode 2: Say this for The Client List: a Carrie Underwood karaoke number by Riley and the rest of "Georgia's Girls" tonight had more life than any of the elaborate musical sequences in recent episodes of Smash.
Otherwise, though, the show's second episode, written by Barbara Nance and directed by Allan Arkush, was filled with worrisome signs. For one thing, the show has seemingly decided to deal with what Riley does for a living by virtually ignoring it. The only sequences in the massage room were devoted to Riley's tiresome psychotherapy for a client who goes to work on an oil rig for extended periods to get over having had his marriage proposal rejected at a ball game. If there weren't a dialogue reference late in the episode to the happy endings Riley provides, you'd barely know any sex was involved at all.
Without that plotline, what's left is essentially a story about a struggling single mom that fits all too neatly into the land of Lifetime. Tonight's big revelation was that the woman whose phone number Riley found in hubby's robe was just someone he'd met at NA, where he went because, unbeknownst to Riley, he was addicted to prescription drugs. The road to this news took up a big chunk of the episode, padded out with red herrings and dream sequences, and didn't end up anywhere interesting. We also had to suffer through 2 separate sequences of first Riley and then best friend Lacey (Rebecca Field) leaving multiple and supposedly comically annoying messages on the mysterious woman's voice mail.
None of this was fun or sexy, and if The Client List isn't those things, it's not going to have much reason to exist. The show needs to build on the sequences of Riley with her co-workers and make some use of its mildly shocking premise and Hewitt's likability, without getting weighed down by too much melodrama. There's enough of the latter for anyone on Army Wives.