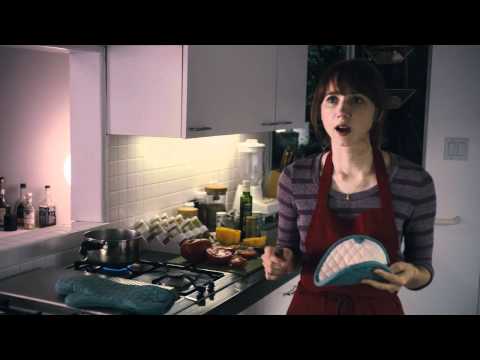 RUBY SPARKS:  Worth A Ticket – A Narrative Feat

Woody Allen is one of the most influential figures in modern independent film, but his ghost is usually evident in the many romantic comedy-dramas we get each year paying homage to Annie Hall and Manhattan, about hyper-intellectual big-city types who lurch in and out of relationships.  The new RUBY SPARKS, written by its co-star Zoe Kazan, and directed by the Little Miss Sunshine team of Jonathan Dayton and Valerie Faris, takes its inspiration from another, oddly less-traveled part of the Allen canon:  his whimsical fantasies like The Purple Rose of Cairo and the more recent Midnight In Paris, in which imaginative fancies come to life and cause unexpected consequences.  In particular, Ruby seems to take off from Allen's most famous short story, "The Kugelmass Episode," in which an English professor is miraculously transported into the novel "Madame Bovary," where he has an affair with the title character.  Ruby Sparks, though, which had a "sneak screening" at the LA Film Festival this weekend before opening in theatres on July 25, is no mere act of imitation–it finds a very particular spin and set of complications in the idea of fiction becoming real.
Calvin (Paul Dano) is a young novelist in present-day Los Angeles who had the bad luck to score a gigantic artistic and financial success at the age of 19.  As a result, he's a "genius" who's spent the next 10 years hopelessly blocked, and he sees a psychiatrist (Elliott Gould) in an attempt to find a way back into his writing.  One day the doctor gives him a simple, short assignment, and Calvin creates the character of Ruby Sparks, a fantasy love.  He adds more and more detail to Ruby, and she becomes increasingly real to him–until one day he walks into his kitchen and her incarnation (Kazan) is standing there, faithful in every respect to the girl he wrote.  Is she a hallucination?  Has he finally completely lost his mind?
At first Ruby Sparks is simply a very funny, imaginative comedy, as Calvin tries to figure out what he's done and how his creation works.  When his brother (Chris Messina), initially skeptical, tells Calvin to write down that Ruby speaks fluent French, Calvin types the words and voila, Ruby does.  Calvin is scared, and then enthused, and then thrilled.   (The movie stays away from what could have been the hard R-rated connotations of his power.)  Many movies would have stopped with these easy laughs, added some rom-com complications, and called it a day.
Gradually, though, Ruby becomes something darker and more interesting:  an examination of free will, and the responsibilities of a creator.  Calvin's insecurities and frailties play into his control over Ruby, and we discover that he has issues that a mere materialized dream lover alone can't cure.   A weekend with his free-spirited mother (Annette Bening) and her boyfriend (Antonio Banderas) turns into a minefield, and a party with a frenemy fellow writer (Steve Coogan) is worse. His problems affect his reign over Ruby:  when Calvin vows to set her free, he doesn't like the results; when he indulges his ability to be her puppeteer, he finds himself recoiling.
This kind of conceit requires just the right touch if it's to come off, and Kazan, Dayton and Faris, as well as the cast, do a marvelous job.  Despite what could easily have felt like a gimmicky premise, Kazan's script accents the humanity of the story, and perhaps most remarkably, manages to bring things to a graceful, satisfying conclusion.  Dano, in his first real romantic lead, tones down what's sometimes been his extreme quirkiness in movies like There Will Be Blood for something more relatable–he's likable, and also believably selfish and demanding.  By definition, Ruby is a less fully-rounded character, but Kazan makes the role not just charming but a technical showcase–there's a scene late in the story where she has to whipsaw her responses to Calvin's wants, and you can't look away.  Bening, Banderas, Messina, Gould and Coogan provide sterling support, the kind of ensemble that also feels Allenesque.  As in Sunshine, Dayton and Faris know how to hit the emotional chords while still showing restraint, and the movie flows beautifully; Matthew Libatique's glowing photography and Nick Urata's distinctive music (he also scored Crazy Stupid Love) are also excellent.
Ruby Sparks is one of the few genuinely original movies of the season (it's scheduled to open the same week as The Watch, with its didn't-I-see-this-already? comedy franchise cast of Ben Stiller, Vince Vaughn and Jonah Hill), and it deserves to find an audience amidst the mega-busters.  It has a light, summery touch, but it lingers on the palate, in a way even the great Woody might appreciate.
Remember:  to get SHOWBUZZDAILY's e-mail alerts, just put your address in the "Sign Up For Our Mailing List" box on the right of this page!