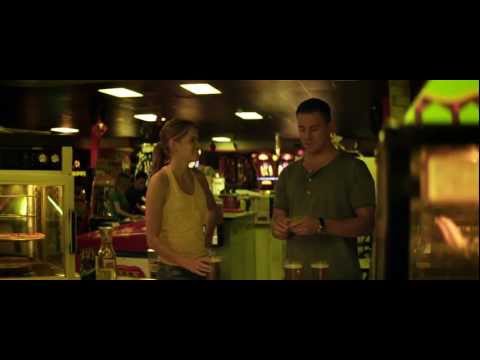 MAGIC MIKE:  Worth A Ticket – Soderbergh Again Earns His Crumpled Dollars
Although he hasn't appeared in any of the year's giant action blockbusters (GI Joe 2, probably not that giant anyway, was postponed to next year), 2012 could well be remembered as the year of Channing Tatum.  He's had 3 major hits in 3 different genres in about 4 months:  the soap The Vow, the broadly comic 21 Jump Street, and now the Soderberghian MAGIC MIKE, which mixes a Showgirls setting and storyline with the business-minded matter-of-factness of The Girlfriend Experience.    Since no one doubts that Tatum can anchor an action movie, he could be the first real all-quadrant movie star to emerge since Brad Pitt.
Magic Mike, too, is famously inspired by Tatum's own experiences working as a male stripper early in his career.  (The script is credited to Tatum's producing partner Reid Carolin, and both he and Carolin serve as producers.)  The version of Tatum in the film is played by Alex Pettyfer as Adam, although just as often referred to as "The Kid."  Tatum himself plays Mike, who becomes Adam's Adam's tutor, mentor and sometimes enabler at the Tampa club called XQuisite run by Dallas (Matthew McConaughey, in a role that recalls both his objectification by Joel Schumacher in A Time To Kill and the comic verve he's been showing in small roles in projects like Tropic Thunder and Eastbound and Down).
The plot itself is a bit threadbare.  Mike has been stripping for 6 years, but he's only doing it (and several other jobs) to raise money for his real passion, which is making furniture.  He may have threesomes and engage in some casual drug use, but he almost never gets out of  control, and even the threesomes always feature Joanna (Olivia Munn), a psychology student Mike considers a steady girlfriend, who came to XQuisite to review the psyches of the dancers and stayed to partake of the talent.   When Mike introduces 19-year old Adam to the club,, he assures the boy's responsible and disapproving–but gorgeous–older sister Brooke (Cody Horn) that he'll look after the boy, and he means it.  The other dancers (Joe Manganiello, Matt Bomer, Adam Rodriguez, and Kevin Nash) are all good guys–and incidentally, all totally straight, with none of them engaging in prostitution–who help each other out.  Eventually, of course, Adam gets out of control, his new success going to his head, and Mike has to decide whether it's time to give up the thong and become a responsible adult, a decision that's never seriously in doubt.
What sets Magic Mike apart from The Playboy Club is Soderbergh's focus on the everyday routine and economics of stripping.  The picture is a warmer, funnier, more engaging counterpart to Soderbergh's Girlfriend Experience, which examined the life of a high-class hooker (although without the existential crises that Sasha Grey's character had in that film).  The combination of Tatum's knowledge of the field and Soderbergh's interest in detail gives Mike unexpected texture.  As usual, Soderbergh handled his own cinematography and editing (under his pseudonyms of Peter Andrews and Mary Ann Bernard), and the picture has a loose, natural feel to it that shifts without too much awkwardness from scripted to improvised sequences.  Soderbergh has always been gifted with performers, and Tatum delivers a seemingly effortless piece of star acting that includes everything from elaborately choreographed stripping sequences to romantic-comedy with Horn to serious drama.  Aside from McConaughey and Horn, the other actors are fine, but mostly as parts of the ensemble rather than standouts.
If Soderbergh sticks to the current version of his vow, he'll only be making 2 films after Magic Mike:  a thriller called The Bitter Pill with Tatum and Rooney Mara, and an HBO biography of Liberace starring Michael Douglas and Matt Damon.  Then he'll be taking an indefinite hiatus, because he's tired of filmmaking in general and of the business that's pushed his kind of mid-scale, idiosyncratic and sometimes demanding work to the margins.  Certainly after something like 30 projects in over 20 years, with some blockbuster hits and more than a few failures, he's earned his right to a rest.  Soderbergh, though, is one of the smartest and most interesting commercial filmmakers around, able to give what could have been a routine project like Magic Mike intelligence and substance.  Unlike his current protagonists, he has more left to show us.