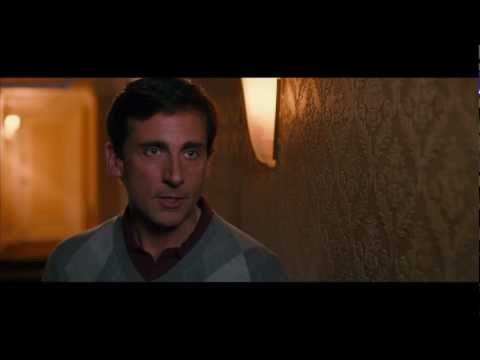 SEEKING A FRIEND FOR THE END OF THE WORLD – Watch It At Home – Apocalypse Rom-Com Now
SEEKING A FRIEND FOR THE END OF THE WORLD marks the directing debut of its writer Lorene Scafaria, who until now has mostly been known as screenwriter of the marvelous 2008 Nick and Norah's Infinite Playlist.  (Was it really just 4 years ago that we thought Michael Cera would be a movie star and no one knew who Kat Dennings was?)  Strangely enough, even though one is the story of a pair of teens searching for a secret concert in the course of a New York night, and the other concerns, well, the end of the world, the narrative dynamics of both are quite similar:  a couple is thrown together by circumstance, and in the course of an intense, compressed time together, they overcome all obstacles and find true love.   But Seeking A Friend bungles the one absolutely critical creative decision needed to make it work:  casting the leads.  Not that there's anything wrong with Steve Carell's or Keira Knightley's performances as such–but while we can believe the two of them as comrades and friends, and even (given the circumstances) as sex partners, they have no chemistry as beloveds, and there goes the movie.
The McGuffin heading toward the Earth in Seeking A Friend is a 70-mile wide asteroid (in the opening scene, we find out that an Armageddon-like plan to destroy it hasn't worked).  With 3 weeks go to until the apocalypse, New York (badly simulated on backlots and locations that aren't New York) is falling apart, what with the promiscuous sex, middle-class friends trying heroin because why not, and sundry riots.  Dodge (Carell) is staying as far away from all this as he can.  Dodge is a recessive, passive (not passive-aggressive, just passive) insurance salesman whose wife left him as soon as she heard the world was coming to an end, and he has no interest in sex, drugs or even human contact.  He'd consider killing himself to avoid the end, but mostly he just wants to be left alone.
That, of course, is not to be.  One night, Penny (Knightley) comes to his window.  She's a neighbor who's just broken up with her boyfriend.  (The boyfriend is played by Adam Brody, one of the many recognizable actors to make cameos in the story.  Friends of Dodge's include Connie Britton, Rob Corddry, Patton Oswalt, and Melanie Lynskey, and William Petersen and Gillian Jacobs are among those who show up later.)   She needs a place for refuge, and Dodge doesn't care, so she stays with him.  Penny is a hodgepodge of cute character traits and mannerisms:  she carries around a precious collection of vinyl records, for months she's been hoarding Dodge's mail that was mistakenly put into her mailbox, and she's such a deep sleeper that she can be carried around without waking up.  Those latter two become major plot points:  in the case of the mail, one of the letters was written to Dodge by his first love, who had wanted him to know she was divorced and still had feelings for him.  When riots threaten Dodge's and Penny's building, they make a deal:  she'll get him to his old girlfriend if he'll try to persuade the person he knows with a private plane to fly her home to see her parents in England before the end.
At that point, Seeking A Friend becomes a road movie, as Dodge and Penny make their episodic way around the eastern seaboard.  Some of the sequences are amusing (they're arrested for traffic violations by a cop who can't stop enforcing the speed limit), others are touching (Dodge finds a record player for Penny's albums).  Through all of it, of course, we're supposed to feel the two of them finding romance amidst the devastation.
This never really happens.  Partly it's simply a matter of Carell and Knightley not meshing as performers in that way, but the fault is also in Scafaria's writing.  Dodge is another version of the sadsack guy Carell played in Little Miss Sunshine, Dan In Real Life and Crazy, Stupid Love, but he's less interesting than any of them, without any of the flashes of anger or wit or strength that made those men multi-dimensional.  Here he's virtually a cartoon character–he might as well have a little cloud of depression over his head.  Penny is colorful in the most superficial, obvious ways, given affectations instead of depth.
Scafaria also can't really bring off the visuals needed to convey her end of the world story.  The movie has a bland, slack look, and although one could argue that it's meant to suggest the banality of this particular apocalypse, it doesn't leave us with anything interesting to watch.  For a tale that's concerned with the ultimate ticking clock, its pace is also lacking in urgency (when it turns out late in the story that the authorities miscalculated and the asteroid will be crashing sooner than expected, all you feel is a desire to check your watch).  The neatness of Scfaria's plotting also works against any feeling of panic or chaos–like a good film school student, she makes sure that seemingly random remarks early in the story pay off in the last act as plot turns, and some of the developments in the last few minutes are predictable groaners.
A film like Seeking A Friend For the End Of the World, built as it is on a set of very exaggerated conceits, has to be done exactly right or it falls apart.  Despite some moving and funny scenes, and genuine charm (if not believable true love) in the relationship between Carell and Knightley, the movie's suspension of disbelief ends before the world does.