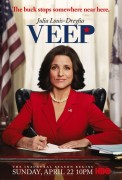 VEEP has no particular interest in going anyplace, so its season finale tonight was more or less the same as any other episode.  This has made for a fun, but somewhat repetitive, ride over the show's initial 8-episode season.  Every week Vice President Selina Meyer (Julia Louis-Dreyfus) fails to accomplish anything at all, usually drilling herself deeper into political oblivion through her own ham-handed ambition or the failed machinations of her Chief of Staff Amy (Anna Chlumsky), Press Secretary Mike (Matt Walsh), Mike's scheming associate Dan (Reid Scott), and Selina's personal assistant Gary (Tony Hale).  Meanwhile, Jonah (Timothy Simons), the–as he'd be first to tell you–West Wing's liaison to the Vice President's office, snarks in the background.
Tonight's episode, written by Jesse Armstrong from a story by Armstrong and series creator Armando Iannucci, and directed by Iannucci, had Selina becoming such political poison (due to some mishaps in previous episodes that included failed attempts at establishing a Clean Jobs board and putting a rein on congressional filibustering, some inadvertent racism, and transferring a Secret Service agent who dared to smile at her) that the Ohio congressman who'd asked her to endorse him for Governor no longer wanted anything to do with her.  This led to what the show features in every episode:  sequences where the various politicians and staff members snarl sarcastically at each other to indicate their utter hostility, cynicism and contempt–but, you know, in a funny way.  In the end, a momentary upturn in Selina's poll numbers (because she'd cried in a TV interview) made the congressman decide he wanted her endorsement after all–and then, when it was revealed that Mike had manipulated her into crying and her numbers went down again, to hurl some more four-letter vitriol in her direction.
Watching any given episode of Veep would provoke plenty of laughs, but it's a one-note show, and since that note is nonstop mean-spiritedness (it's the anti-Parks & Recreation), it gets exhausting fast.  There are no real characters, no genuine issues, just an endless retracing of the same basic steps:  all politicians are petty, power-hungry idiots, and their staffs are worse; no one can ever accomplish anything; trying to get anything done in government leads only to humiliation.  All very possibly true, but the show comes to seen like a class exercise in ersatz Mamet, as pointless as the political process itself.
Louis-Dreyfus and the rest of the performers are very skilled, but when the laughs wear off on Veep, all that's left is a bunch of not very bright, unsympathetic people being nasty to one another for half an hour.  The show reaches its goals (and HBO has already re-elected it for next season), but not in any kind of satisfying way.  Veep's heart isn't dark–it's just empty.