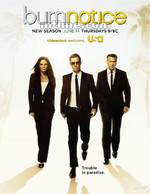 BURN NOTICE – Thursday 9PM on USA
WHERE WE WERE:  On the jailhouse steps.  Uber-evil Anson Fullerton (Jere Burns), the shrink who "burned" our hero Michael Westen (Jeffrey Donovan) and destroyed his CIA career for years, had successfully framed Fiona (Gabrielle Anwar), the love of Michael's life, for a bombing that killed innocent people.  (Fiona actually did set a bomb in that building, killing a non-innocent person, but… it's a long story.)  Anson was using the case against Fiona to blackmail Michael into burning other CIA operatives, so that he could use them in his nefarious plans, and in order to save her, Michael was ready to go along.  But Fiona couldn't allow Michael to sacrifice the agents for her, and with the help of Michael's sidekick and ex-Navy SEAL Sam Axe (Bruce Campbell), she got to the cops first and, as Michael watched, surrendered to the authorities.
WHERE WE ARE:  In an unusual episode by series standards.  The 6th season premiere, written by series creator Matt Nix and directed by Stephen Surjik, doesn't have the procedural element that almost every installment of of the show contains.  Instead, Michael–who knows Fiona is on her way to prison and possibly the death penalty– is strictly after Anson, with Sam at his side and Michael's new CIA supervisor Pearce (Lauren Stamile) trying to catch up.  Anson tries to divert Michael's attention by sending a random psychopath to kill Michael's mother Madeline (Sharon Gless), but that's what ensemble casts are for, and Michael sends colleague Jesse (Coby Bell) to protect her (although in the end she blows the psycho away very nicely on her own).  Meanwhile, the nasty investigator Jason Bly (Alex Carter), who's been after Michael for several seasons, attempts to trick Fiona into implicating her beloved in the bombing.
BURN NOTICE has become one of USA's signature series, although erosion has started to set in.  Last night's premiere had a 1.2 rating in 18-49s, a very solid number for USA but down from the show's 1.7 premiere a year ago and 1.9 in 2010.  It had 3.9 million total viewers, down from 5.2 million in 2011 and 6.6 million in 2010.  (Suits, incidentally, held the Burn Notice audience well, with a 1.1 demo rating and around 3.5 million viewers, similarly down from 2011's 1.6 and 4.6 million total viewers.)
Burn is very competent at what it does.  Each season until now has been built around Michael's pursuit of the people who ruined his name, with a friend-of-a-friend needing episodic help that only Michael and his team can supply.  Michael provides knowledgeable yet sardonic voice-over commentary to explain how best to manufacture homemade gun silencers, infiltrate security systems, and avoid surveillance, Sam drinks beers, and Fiona expertly operates firearms and high explosives while smoldering in Michael's direction.  Occasionally there's a hint that Michael may have done things in the Agency that haunt him and prevent him from deeper human contact, but USA isn't a network that dwells on the dark side, and those moments are short-lived.
This season may be a bit different.  Supposedly Anson (who's still alive, but seemingly off the show for a while) was the last of the people Michael needed to track down, and with Fiona apparently imprisoned for a while, some of the show's dynamic may shift.  Or not–the series has never been much interested in change.
In any case, some things can be counted on.  Burn Notice will continue to deliver first-rate production values (you can usually count on a major gunfight, car chase and/or explosion in every episode) and its accomplished cast will go through their accustomed paces.  Burn isn't a show anyone turns to for surprise–or even, really, excitement–but it's dependable and consistent, the kind of virtue that make it a backbone of USA's business plan.