>
Watch It At Home; The thrills are so postmodern, they don't seem to be happening in the theater.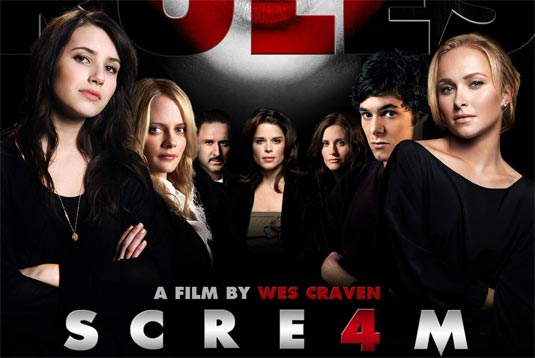 When the original
Scream
arrived in 1996, the slaughtering-the-teenagers genre was already old enough to drive; the first
Friday the 13th
had opened more than 16 years before. The conventions of the form were as well-worn and predictable as a John Wayne western. Writer Kevin Williamson had the ingenious notion of incorporating this ennui into the picture itself, and the result, under Wes Craven's direction, was a thriller that felt smarter, fresher and funnier than its counterparts. A 3-picture franchise followed that grossed hundreds of millions for Dimension (the more profitable, less glamorous brother company to Miramax at the time, run by Harvey Weinstein's brother Bob–now Dimension is similarly part of The Weinstein Company). To everyone's credit, they all let the series go away when the grosses and quality had only started to dip, rather than waiting until they'd sucked it dry.
But now 10 years have passed, and Dimension could use a hit franchise (Piranha 3D isn't quite it). So could Craven, whose last picture was the dismal 3D My Soul To Take. And let's face it, Neve Campbell hasn't been crowding the multiplex marquees lately. And "Scream" is still very much a brand name, as its grosses will likely prove at least on Friday night. So: SCRE4M (yeah, I hate the gimmicky spelling too, but that really is the official title).
Williamson is again the writer–although
stories
indicate he's been somewhat rewritten–and true to form, the passage of time and decline in the horror genre have been written into the script. (Although you won't find anything about a studio, director and star needing new hits.) Sidney Prescott (Campbell) has come home to
Woodsboro, where dumb Dewey (David Arquette) is still sheriff and married to still-ambitious Gale (Courtney Cox). Since the movie needs–very literally–new blood, we also get a fresh shipment of teens, including Sidney's niece Jill (Emma Roberts), and others played by Hayden Panettiere, Marielle Jaffe, Rory Culkin, Nico Tortorella, and Erik Knudsen; other vict–I mean characters, are Sidney's aunt (Mary McDonnell) and publicist (Allison Brie) and various cops (Adam Brody, Marley Shelton, Anthony Anderson). It's the 10th anniversary of the original Woodsboro killings, which in the "Scream" universe have been the subject of 7 "Stab" movies and several books, and now Sidney herself has written a book about her survival. Once she's back in town… who'da thought it? Ghostface is back to slaughtering, and the cast starts bleeding out.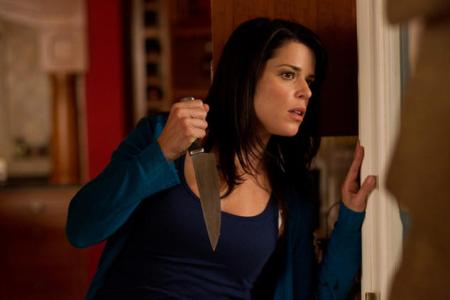 The problem with Scre4m is that it's so wound up in its anti-mythology that it's become as creaky, as frozen in its conventions, as the horror movies it parodied. So if I tell you that actresses like Anna Paquin, Kristen Bell, Aimee Teegarden, Brittany Robertson and Shanae Grimes are sighted in the first 10 minutes, do I really have to tell you anything more about their roles? And sure, the picture structures its opening to acknowledge that fact, but that doesn't make it less predictable. The brick wall the series hits is that you can make fun all you like about the stupid things characters do to get themselves killed in slasher movies, but then if you want to kill your characters, they have to do the same dumb things. And although Craven does his professional stuff, it's obvious that an empty space in the frame will inevitably be filled by some sudden shape (whether killer or false shock), a diminution in music will mean a loud noise or crashing musical chord is coming, and the revelation that nothing is behind you just means that it's in front of you. There are endless meta-jokes about sequels, remakes and reboots, not many of them funny (although oddly, there isn't a single gag about 3D horror flicks), as well as references to webcams, texting, social networking, and all those other newfangled things that the kids do nowadays; it's like Williamson had a checklist.
The picture does come to life in its last 15 minutes, but I really would be spoiling the fun if I described it at all, so you'll just have to take my word. Suffice it to say that the performer who gets to play a prominent part in those sequences acquits him or herself extremely well, sparking that whole section with killer timing and (very) physical humor. By then, though, you'd be excused for thinking that the next picture in the series might as well be called "Ya5n".
(SCRE4M – Dimension/Weinstein Company – 112 min. – R – Director: Wes Craven – Script: Kevin Williamson – Cast: Neve Campbell, Courtney Cox, David Arquette, Emma Roberts, Hayden Pannetiere, Rory Culkin, Marley Shelton – Wide Release)