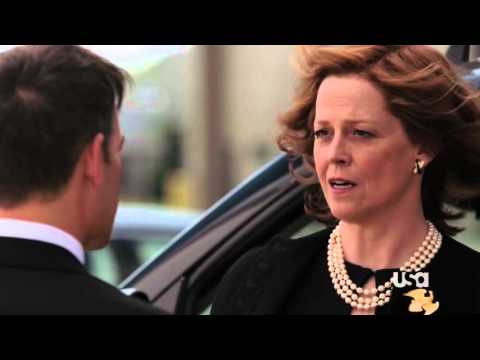 POLITICAL ANIMALS remained uncompelling to the very end, which is remarkable when you consider that its final episode threw in, among other things, the (apparent) death of the President of the United States.  The show had plenty of suds and political intrigue, and yet it never amounted to more than a pale imitation of other shows.
The season finale, written by Consulting Producer Molly Newman and Producer Speed Weed, continued to concentrate on the issue of whether Secretary of State Elaine Barrish Hammond (Sigourney Weaver) would run for President.  She'd decided in the last episode to leave the administration and do so, but a little respect shown by President Garcetti (Adrian Pasdar) had her right back on his team, ready to join his ticket as VP in the next election.  All of this back and forth was swiftly resolved when Garcetti's plane went down in the Atlantic, because although the show tried to pretend there was some suspense, obviously she would be running against odious Vice President Collier (Dylan Baker).
And that was the problem with Political Animals:  lots of seemingly dramatic things happened, but they never had any surprising consequences.  The other major plotline of the finale was Elaine's son Doug (James Wolk) returning from his brief liaision with reporter Susan Berg (Carla Gugino) to immediately elope with fiance Anne (Brittany Ishibashi), which prompted the whole Barrish Hammond family to cutely crash the elopement in a very Brothers & Sisters (run for years by Animals creator Greg Berlanti) sort of way. Even worse was the newsroom aspect of the story, where Susan was repeatedly victimized by a vampish blogger so blandly evil even Aaron Sorkin might have winced (or at least given her better dialogue).
Political Animals was essentially Brothers & Sisters in the vicinity of the White House, and no more interesting for its surroundings.  As the Clintonesque paterfamilias Bud, Ciaran Hinds was miscast and had a fatal lack of chemistry with Weaver, while sons Doug and gay addict TJ (Sebastian Stan) were just dull. Ellen Burstyn, as heavy-drinking former showgirl grandma Margaret, had all the good lines but seemed to have wandered in from the set of Golden Girls.   Despite Weaver's committed performance in the lead, and the presence of such other fine actors as Vanessa Redgrave and Roger Bart in supporting roles, the show was never more than negligible.
Animals did horribly in the ratings, so unless internal politics at USA require it to come back, its adminstration is probably over.  (Oddly, although this was supposed to be the show that put USA into the "serious network" conversation, its Suits rode a superb Season 2 to become by far the network's best show on the air.)  It was proof, yet again, of what many political tickets have discovered:  loading bbig names into the cabinet is no guarantee of governing well.