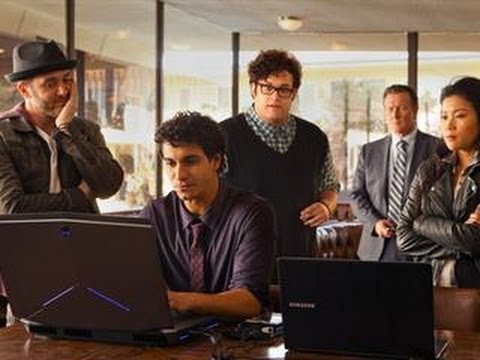 SCORPION:  Monday 9PM on CBS
THE FACTS:  A group of nerdy genius goofballs works with the government to solve high-tech emergencies–based on a true story.  Elyes Gabel is Walter O'Brien, the leader of the nerd squad, Robert Patrick is their exasperated supervisor, and Katharine McPhee is the token normal girl, a waitress with a child that only Walter realizes is also a genius.  The series creator is Nick Santora, who's worked on a variety of crime dramas (Prison Break, Lie to Me, Vegas) over the past decade.
WHAT IT'S SAYING:  A mix of light comedy (think the offbeat homicide investigators on Bones), self-contained procedural stories and a brainy, cutting edge slant on the crisis-of-the-week genre.  And don't doubt that there will be romance between Walter and the waitress.
WHAT IT'S REALLY SAYING:  Just because the characters are socially maladjusted doesn't mean there won't be plenty of action.  The pilot has the team stopping an air traffic control failure that could crash 20 jetliners, and they do it in classic down-to-the-last-split-second fashion, including a high-speed ride in a Ferrari (the pilot director is Justin Lin, who specializes in Fast & the Furious movies).
THE OUTLOOK:  CBS is using this show to break up a 2-hour Monday comedy block that's lasted for 30 years, so they must believe in it.  (And they must not believe in their comedy development this season.)  Could be fun, although regular series episodes won't have the oomph (or production values) of the pilot storyline.  While it faces The Voice, the real competition is Sleepy Hollow, but the two shows are different enough to have distinct audiences (and it helps Scorpion that Sleepy Hollow is heavily serialized and may not add many viewers in Season 2).  Could be a hit with the older male audience that's CBS's bread and butter.